Today is another link-up round of Open To Interpretation. This time, Amy chose the inspiration photo:
I thought about using my homemade pleated skirt as a base for the outfit (since it has the same basic shape as the inspiration outfit), but that skirt has all sorts of problems that I don't even care to tackle. Mostly because it means I'd have to iron more pleats. Kill me now.
polka dot top: LC lauren conrad via kohls
leopard infinity scarf: made by me — fabric from joann's
wedges: target
watch: dkny via dillards
Then I remembered this little teal polka dot top in my closet, and with the help of a few new items I picked up last week in Las Vegas, this outfit was born. I never, ever, ever would have put the polka dots and leopard together, but you know, I kind of love how it turned out.
Head on over to Amy, Kayla, or Erica's blogs for more polka dot and leopard outfits!
(Oh, and don't forget that today is the last day to enter the large ad giveaway for Sam's blog! Giveaway ends at midnight tonight!)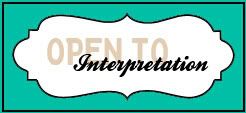 «
An Instagram Vacation