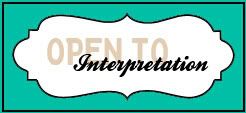 Today is Open To Interpretation day with Kayla, Erica, and Amy. I love doing these challenges, but this one was seriously hard. A pencil skirt and heels is great for some days, but not so much for a day when you're home with Peanut and his two two-year-old friends and acting as a referee, a trampoline, and a cafeteria lady.
So mostly for modesty purposes, I went with the maxi skirt, and threw on some sparkly flats for good measure.
Head on over to the other girls blogs to see how everyone else interpreted the look!
«
Tools